Dr. Frances Mautner Markhof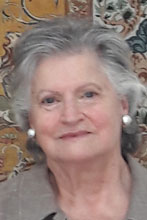 Dr. Frances Mautner Markhof is a member of the iGlobenews Advisory Board, she is the iGlobenews Executive Editor and a Guest Contributor
Dr. Mautner Markhof is Executive Director of the Austrian Center for International Studies (ACIS) in Vienna whose work currently focuses, i.a., on Northeast Asia, multilateral security cooperation and nuclear non-proliferation.  Before joining ACIS she was an official of the International Atomic Energy Agency. She has also led research projects at the Brookings Institution, the German Foreign Policy Institute (DGAP), and the International Institute for Applied Systems Analysis (IIASA) in Austria. She was a guest speaker at the 4th Jeju Peace Forum on Peace and Prosperity in Northeast Asia: Exploring the European Experience.
Dr. Mautner Markhof has published widely on nuclear non-proliferation and the NPT regime, multilateral security cooperation in Northeast Asia, the international safeguards system of the IAEA, regional nuclear fuel cycle centers, processes of international negotiations, conflict prevention, and the management of complex systems.
She has held seminars and lectures in various countries including USA, China, Germany, Japan, France, Netherlands, Sweden, Finland, Hungary, Austria, former Soviet Union, on inter alia arms control, and non-proliferation, nuclear safety and reliability, European security, multilateral security cooperation, international negotiations, management of complex systems.
She has degrees from Tufts University (BA summa cum laude, Physics/Mathematics), Harvard University Graduate School of Arts and Sciences (MA National Science Foundation Fellow, Physics), Harvard Kennedy School (MPA, Hodson Fellow) and the University of Vienna (Ph.D. Physics, Fulbright Scholar).