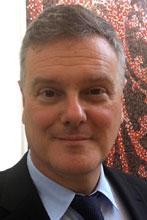 David Deegan has over 30 years leadership consultancy experience in the fields of talent, learning and development, across a range of industry sectors and up to Board level with blue-chip companies such as The Ministry of Defence, Atos, BAE Systems, HSBC, Marks and Spencer, Qatar Petroleum, Etisalat, and the UK Senior Civil Service. As Director of Practice Development at Cranfield University Business School, he drives the continuous improvement of their world-class executive education offering, through building breadth and depth of delivery capability, enhancing the customer experience, and fostering effective partnerships with specialist organisations.
Enthusiastic and creative he builds website content, writes and appears in video-based marketing collateral. Committed to the promotion of life-long learning he continues to design and deliver bespoke executive education programmes for clients, and provide executive coaching and mentoring. A keen linguist he speaks Spanish, Mandarin and is currently building up his German.
Outside of work he takes part in local amateur-dramatic productions; his resume includes thrillers, comedies and Shakespeare. He took up playing the cello relatively late in life but has reached the level where he plays in amateur orchestras to raise funds for charity.