Ambassador Emil Brix, Director of the Vienna School of International Studies (DA), gave iGlobenews an exclusive interview to discuss the history, present and future of the academy. The year 2024 marks the 270th anniversary of its founding under Empress Maria Theresia.
Ambassador Emil Brix, Director of the Vienna School of International Studies and former Austrian Ambassador in London and Moscow, gave iGlobenews an exclusive interview to commemorate the upcoming 270th anniversary in 2024 of the founding of the oldest diplomatic academy in the world. Ambassador Brix discussed the past, present and future of the Vienna School of International Studies, which has been a trailblazer in its field. It serves as a model for newer academies which have been created around the world.

Old picture postcard: Vienna School of International studies

Vienna School of International studies today
The Vienna School of International Studies, often referred to the Vienna Diplomatic Academy or DA, was founded on 1 January 1754 by Empress Maria Theresia as the Oriental Academy. This Academy was set up to train talented young people in the languages of the Orient and the Occident, "as well as in all the branches of knowledge that are important for them to protect and promote the commercial and political interests of Austria in the Orient." (Heinrich Pfusterschmid-Hardtenstein, "A short history of the Diplomatic Academy of Vienna").
Today 200 students from over 50 countries make up the DA student body. Only one third of the entire student body come from Austria. Faculty and experts from every continent gather at the DA to share their knowledge and their first-hand experience. From China to Taiwan, from India to Latin America — academics, experts, diplomats and students gather at the DA to learn from one another, exchange ideas, debate and network.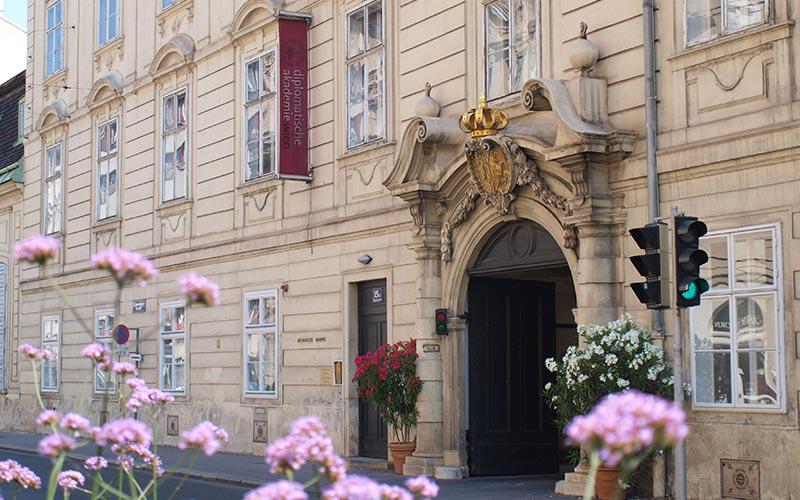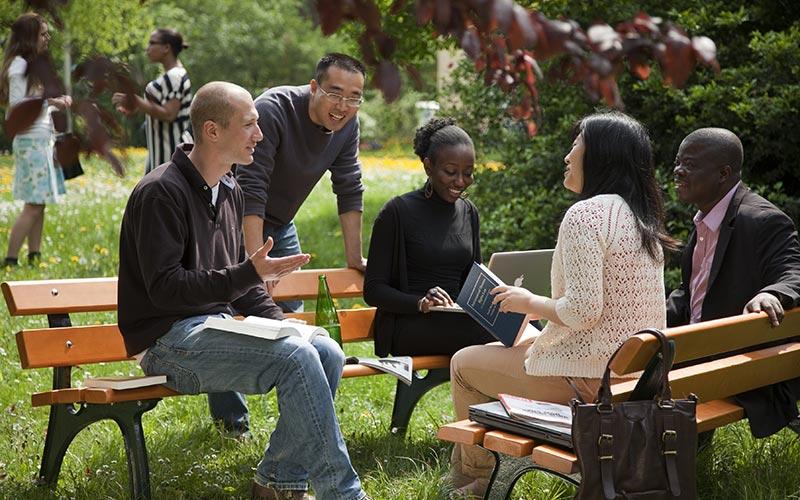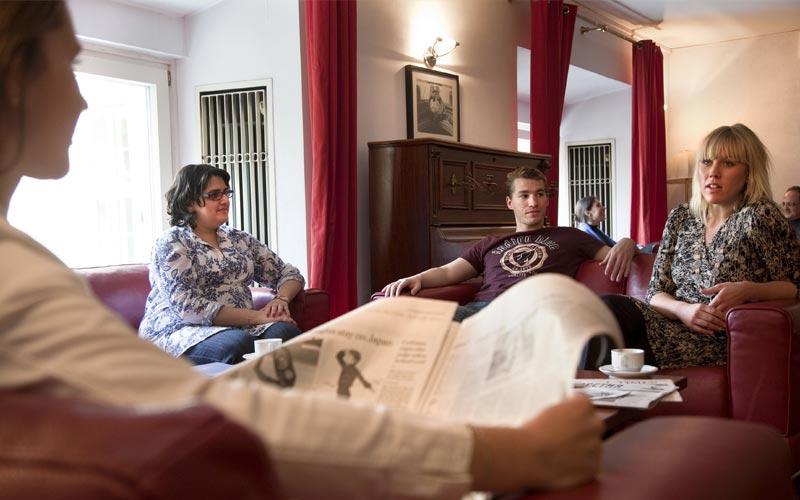 The DA is educating global leaders.  It currently has 4000 alumni worldwide. Less than 20% of its alumni work in diplomacy. A majority end up in media, foreign government institutions, international organizations, and the business sector, with the percentage of alumni in business growing steadily. The DA has a central role to play here according to Director Brix: "In our increasingly interconnected world, businesses need to comprehend geopolitical developments and their implications for their operations. The scope of our interest continues to expand, and we're proud to see our alumni thriving in such diverse career paths."
According to Ambassador Brix, the objectives and priorities of the DA have essentially not changed. There is still a strong emphasis on understanding different cultures and on languages, and the DA remains multidisciplinary. Students study various fields, from history to economics, from political science to law. The goal is to gain a deeper understanding and a greater appreciation of the big picture. But the DA not only focusses on diplomacy, but also on international relations and a global outlook. "What certainly changed is that we now have a global outreach. Ambassador Brix has stated that the priorities of the diplomatic academy, as we have them today, are not only concentrating on immediate neighbors, but we are trying to be something like a diplomatic capital of education on a global scale".
When asked what skills today's diplomats require, Ambassador Brix replied that "the basic idea of a diplomat has always been, and still is, that you have to put yourself and your head into the position of the people with whom you have to negotiate or whom you try to understand. So, there is the idea that diplomats are there to create some sort of knowledge of the other, whoever the other is in the negotiation or in bilateral relations … However, the way you do it and the tools you use for that have dramatically changed. This change isn't just about the invention of things like the telephone, TV, social media, and the digital world." Understanding one's counterparts and their interests is key to being a good diplomat. Only then can trust be built and solutions be found.
The students at the DA learn "how best to communicate in a given situation." According to Brix, this new toolkit involves social qualities and empathy, but also learning which tools to use for communicating, which is essential. This includes coming to terms with the digital and AI age.  With the upcoming academic year 2024, the DA will introduce a new course of study: the Master of Science in Digital International Affairs (MSc DIA) offered in cooperation with the University of Innsbruck. The new curriculum will cover big data, cybersecurity, digital diplomacy, international law, and economics. "Diplomacy is typically a conservative undertaking, often slow and, in many instances, that slowness as well as continuity, protocols, and rules serve it well. However, the digital world is disrupting this to a certain extent." The DA will educate a younger generation of digitally savvy diplomats and international citizens. There is still time for interested students to apply—the deadline is 15 March 2024—and Ambassador Brix encourages all those interested in studying "how the digital realm disrupts within this evolving international order."
Ambassador Brix believes AI will not replace humans in international diplomacy and politics. He continues "while machine learning can be effectively used for routine tasks and factual data, the ultimate value lies in what you derive from that reporting. This analytical aspect, I believe, will continue to be within the purview of diplomats in capital cities and in countries where they are posted."
The upcoming anniversary year will also commemorate one of the DA's most prominent alumni, Joseph von Hammer-Purgstall (1774-1856). He was an orientalist, historian and a linguist and worked under Metternich. He went on to establish the Austrian Academy of Science and to discover and translate key texts from other major languages such as Arabic and Turkish. Ambassador Brix sees Hammer-Purgstall's career as an example "of how international relations can merge with research work and the dissemination of knowledge to the wider public… he represents an excellent model of what an alumnus of the Academy can achieve and underscores the role of the Academy itself. This approach to oriental research, spanning the Arab world and the broader Islamic world, will be a heavily discussed topic in Vienna at the DA next year." This will be especially relevant in light of the ongoing tragic war between Hamas and Israel, which started after Ambassador Brix gave iGlobenews this interview.
Picture top: Ambassador Emil Brix © DA/Peter Lechner, Students © DA/Pilo Pichler, DA entry © DA / Peter Burgstaller