The International Vienna Energy and Climate Forum 2023 (IVECF) took place at the Hofburg palace on 2 and 3 November 2023. The Forum featured high level speakers and experts from international organizations and NGOs. UNIDO Director General Mueller presented his Green Marchall Plan for net-zero carbon emissions. IAEA DG Grossi promoted small modular reactors and nuclear micro reactors.
The International Vienna Energy and Climate Forum took place on 2-3 November 2023, and was organized by the United National Development Organization (UNIDO), the International Institute for Applied Systems Analysis (IIASA), the Austrian Federal Ministry for European and International Affairs and the Austrian Development Agency (ADA). It featured high-level panelists and keynote speakers including IAEA Director General Rafael Grossi, UNIDO Director General Gerd Mueller and Austrian President Alexander van der Bellen.
The Forum discussed how best to achieve global Sustainable Development Goals by aiming for net-zero carbon emissions, with a goal of delivering recommendations for the upcoming United Nations Climate Conference COP 28, to be held 30 November to 12 December 2023 in Dubai.
UNIDO Director General Müller presented his Green Marshall Plan to achieve a net zero future, stating: "Energy is the basis for all development and progress. The world population is growing, and the global primary energy demand is projected to increase by 50 to 70 percent by 2050. To protect our climate and our global public goods, we need a new, sustainable, fair global model of growth and globalization … What we need is a new 'Green Deal', and more investments, especially in the African countries. Industrialized countries need to fulfill their climate commitments."
High-level representatives from international organizations such as the IAEA, UNIDO, IIASA, WMO, WHO and ESA, global CEOs, as well as experts and youth representatives discussed new innovative approaches for deploying renewable energy access, accelerating decarbonization and achieving a green industrialization.
The Vienna conference show-cased innovative technologies and transformative solutions such as those developed by the Mind.Factory, Camm Solutions and Eco Netix. Mind.Factory is an innovative startup by the Austrian Fraunhofer Group which designs a digital 'twin' or replica of existing production facilities. This simulation model allows real-time adaptions and optimization, which have been very effective in reducing energy costs. Camm Solutions is a German startup has developed a viable alternative material to plastic, Camm – a 100% biodegradable packaging material.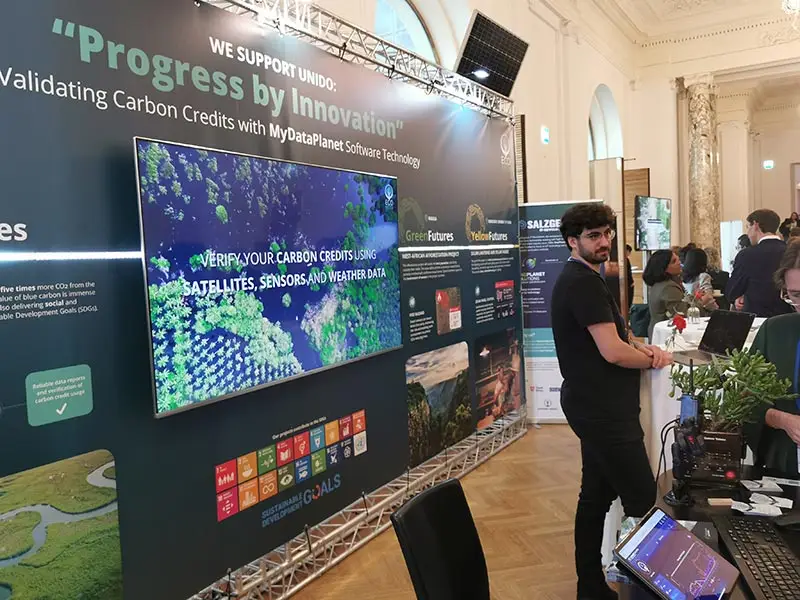 Eco Netix is an innovative approach to measuring, reporting, and verifying carbon usage. This is especially important to ensure an equitable and transparent carbon market, so that developing countries who have a small carbon footprint receive carbon credits. Eco Netix focuses on data-mapping in Africa by using loT (Internet of Things) networking, satellite imaging, weather data and AI. Eco Netix uses loT technology developed by the Austrian company, Oneplanet Solutions.
A highlight of the Forum was its first panel which included IAEA DG Rafael Grossi and Ms. Damilola Ogynbiyi, former Managing Director of the Nigerian Rural Electrification Agency and CEO and Special Representative of the UN Secretary-General for Sustainable Energy for All, and Co-Chair of UN-Energy. The panel discussed how to reach decarbonization in the power sector, the role of youth in this process, the challenges of integrating nuclear power with other renewable sources of power, as well as the social and economic impacts of an inclusive and just transition to a net zero emission economy. The panel ended with recommendations for the upcoming COP28.
Ms. Ogunbiyi reminded the audience of the need to focus on investment and finance. The average African in Sub-Saharan Africa lives in energy poverty. She stressed the need for an energy transition that is equitable and dignified. "For wealthy countries we talk about transition, but for those other countries how to get it right from the start."
DG Grossi highlighted the importance of nuclear energy in the renewable energy mix of the future: "We need a dose of realism of what is happening out there. Our focus is nuclear energy. In reality nuclear energy is one of the most efficient and clean producers of energy today." Moving forward it is important to find intelligent energy systems, which will include small modular reactors (SMR) and microreactors. He noted that "one size does not fit all". It is important to find the right mix. An SMR can power half of a middle-sized African country with clean energy. He highlighted the importance of the IAEA to ensure the safe and secure use of nuclear technology, so that it will not lead to nuclear accidents or to nuclear weapons. "We need solutions and plans … Ideology does not help, what does help is practical solutions".
Grossi argued for a return to realism. European countries have already extended the lifetime of existing nuclear power plants. He emphasized that many policy makers have realized that nuclear energy is the solution to achieving net zero emissions. Countries such as France, the Czech Republic, Romania, Poland, Slovenia and India are not only building new nuclear power plants (NPPs), but are also planning even more NPPs for the future. The IAEA supports all of its Member States to find the best energy mix by using modelling and planning tools to integrate a nuclear component in the most effective and efficient manner. "This energy mix may or may not include nuclear", said Grossi, who stressed that the IAEA is not a lobby for nuclear power.
COP28 will be the next international conference to deal with climate and energy. Many of the experts and leaders which took part in the International Vienna Energy and Climate Forum will continue the discussion and search for solutions in Dubai, which will bring together a much wider group of participants.
The International Vienna Energy and Climate Forum "will deliver practical inputs … to the United Nations Climate Conference COP28."
Picture: First Panel Discussion IVECF (DG Grossi, Damilola Ogynbiyi, Helen Watts) © iGlobenews