While the world is rapidly modernizing and digitalizing, many people, especially senior citizens, feel left behind by the ever-increasing portion of society moving online. However, in Spain, a country with some 10 million retirees, a retired doctor has taken it upon himself to bring human contact back to the banking sector.
Over the last couple of decades, the world has rapidly digitalized, with ever more sectors of society moving partly or wholly online. The COVID-19 pandemic sped up this development, as further digitalization was the only way for businesses, services and people to function, while also complying with rules, regulations and restrictions.
According to a McKinsey Global Survey, the pandemic saw companies complete in months modernization and digitalization processes that would normally take years. Quarantine measures necessitated setting up home offices for a large percentage of the workforce in a large portion of the industrialized world. Classes, meetings, conferences and even medical consultations were largely forced online, as people strived to do their part to try and stop the pandemic.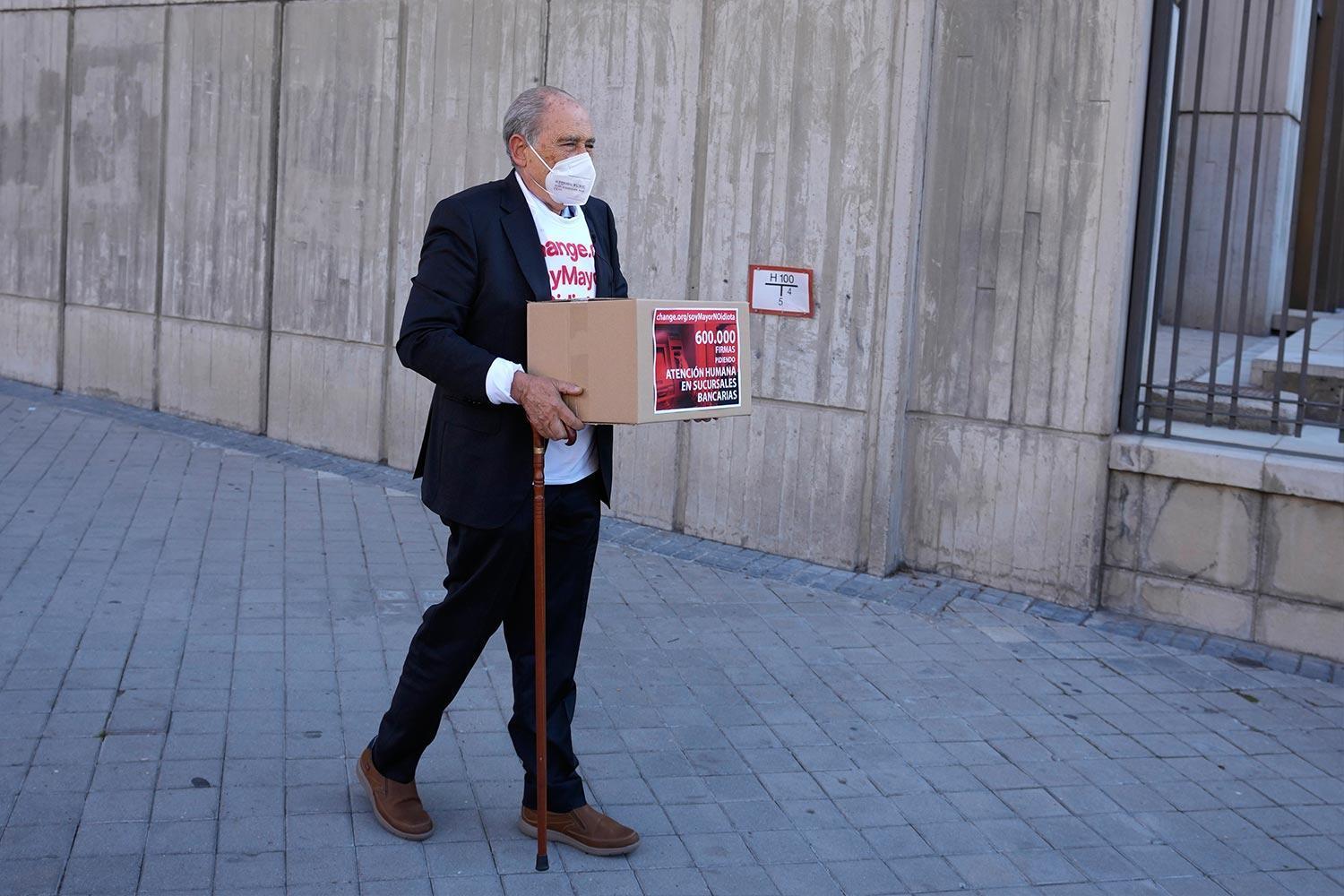 However, digitalization does not stop with employees moving to home offices and students taking an exchange semester at "Zoom University". Nearly everything is becoming increasingly digitalized, with social services, shopping, customer services, contacting health services and banking largely taking place online. Having access to the internet, and knowing how to use it, has become more of a necessity than a tool. With this development, however, a significant part of society is left behind by a rapidly digitalizing society.
A 78-year-old retired Spanish doctor, Carlos San Juan de Laorden, belongs to this group of people that feels left out by the modernizing world. To protest this trend, and in an attempt to claim back some of the dignity that was perceived lost with the digital transformation, San Juan de Laorden took it upon himself to stand up to the digitalization of the banking sector.
Feeling left out by machines that he did not understand and humiliated by bank employees who treated him like an idiot for not understanding online banking, San Juan de Laorden organized a petition under the slogan "Soy Mayor, No Idiota" – "I'm old, not an idiot."
The initiative clearly struck a chord with people in Spain, as San Juan de Laorden could hand government officials a petition signed by almost 650 000 people. His petition stated that he was saddened by the fact that banks seemingly forgot people like him when they gradually moved online and closed down branches where face-to-face interaction with bank employees had previously been possible.
In his petition on change.org, San Juan de Laorden pointed out that banks keep closing branches, some ATMs are complicated to use, others break down and nobody solves your problems. Furthermore, there are procedures that can only be done online, and in the few places where face-to-face services remain, hours are limited. San Juan de Laorden explains that when a customer tries to make an appointment by phone, nobody picks up, and they end up being redirected to an app that they do not know how to use, or they get sent to a distant branch to which they have no means to travel.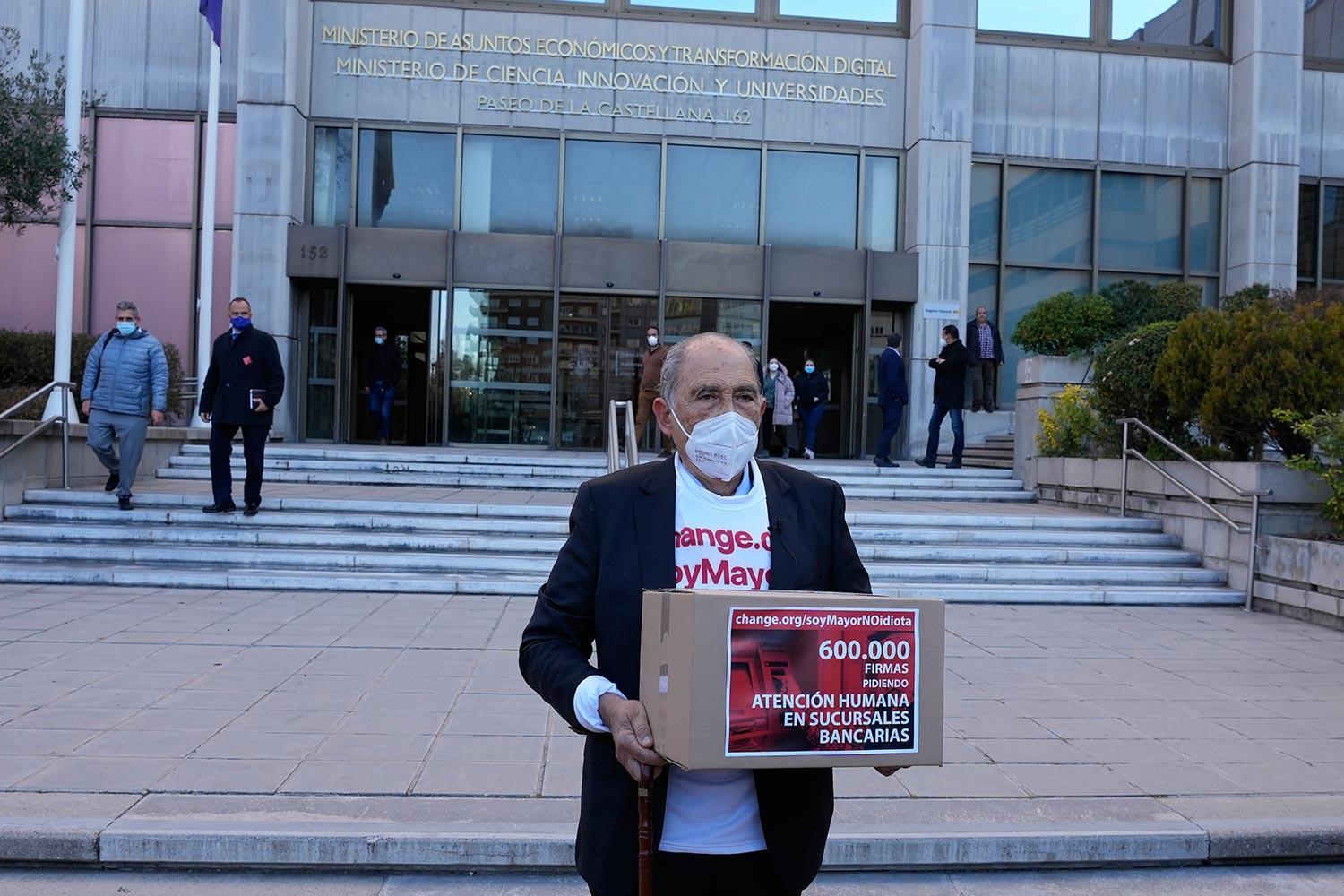 After receiving a vast amount of media coverage, and with the aforementioned 650 000 signatures, Carlos San Juan de Laorden travelled from his home in Valencia to Madrid, where he handed the petition to the secretary of state for the treasury at the Economy Ministry. San Juan de Laorden was also met by the minister for economic affairs and digital transformation, Nadia Calviño, who promised to implement measures to address the problem. Furthermore, the Spanish Central Bank publicly appealed to banks in the country to meet the needs of the elderly.
Although Carlos San Juan de Laorden witnessed protocols being signed and listened to promises being made, no legally binding legislation has been implemented, and the retired doctor stated that although he does not doubt the intentions of those who made promises and signed protocols, he is concerned with whether there will be any results.
Nevertheless, by the end of March, a draft law set to ensure the rights of financial clients in the banking sector is set to be submitted to a public hearing. Hence, San Juan de Laorden's initiative has a very real possibility to be backed up by legislation, as well as by a large portion of the public.
Whether or not San Juan de Laorden's efforts will prove successful in the end remains to be seen. However, the old-but-not-dumb man from Valencia has highlighted a very real situation, namely, that digitalization, despite its many benefits, might come at the cost of real human contacts.
Picture top: Spain Digital Divide; Carlos San Juan, 78, a Spanish retiree, poses on arrival to the Economy Ministry with a box containing signatures in Madrid, Spain Tuesday Feb. 8, 2022. Carlos San Juan, who is campaigning to keep in-person customer services at bank branches has handed Spanish government officials a petition with more than 610,000 signatures saying he felt "left out" by the shift to online banking. On his petition website he complained that "nowadays almost everything is done on the internet and we don't understand those machines." His slogan on change.org is "SoyMayorNOidiota" (I'm a senior citizen, not an idiot). Card reads ' Attention, more human working in the banks'.  © AP Photo/Paul White