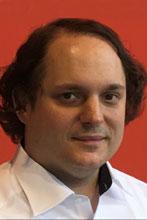 Philipp Conrad is iGlobenews' audio editor.
Philipp Conrad holds a B.A. with academic honors in Media Communications from Webster University in Vienna, as well as a degree in Audio Engineering. His notable achievements include curating music for commercials and music publications, as well as writing and recording two albums with his band. He created and hosts one of Vienna's longest running open stages, and also interviews the musicians that perform on his very own radio show. He is the owner and operator of the Vienna-based recording studio SkyStudio, and on rare occasions can be found playing his guitar in subway stations around town. In his free time Philipp likes to play with his two cats and sing for his wife.
Philipp composed and produced the the intro-music for our iGlobenews Pods.